Bali Travel Guide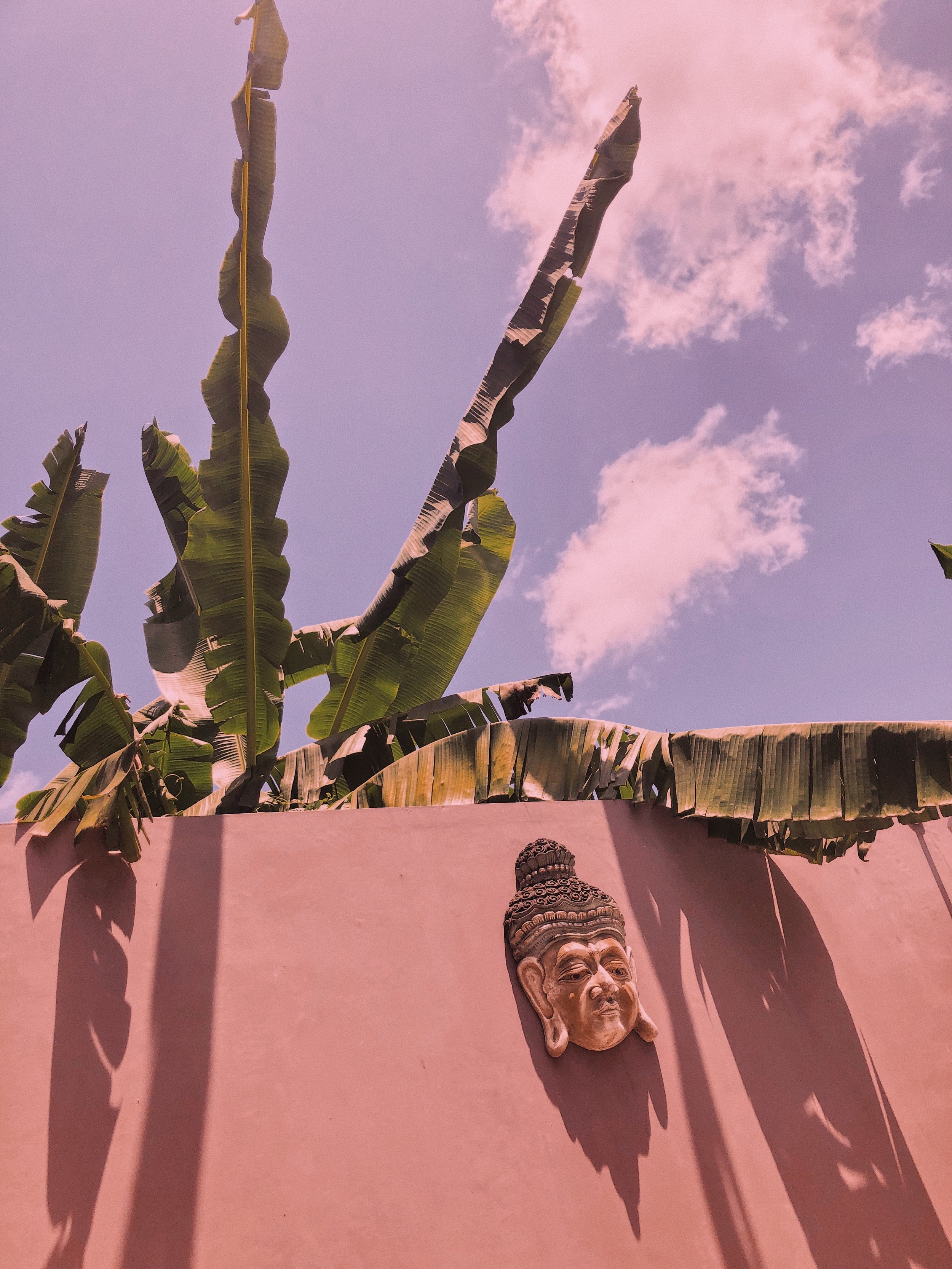 A beautiful, vibrant and bustling island in Indonesia, Bali has been a top travel destination for decades but in recent years, has become incredibly popular amongst holiday goers and world travellers from all over the globe. Known for it's iconic rice paddies, volcanic mountains, religious temples, yoga retreats, surfing and market stalls, Bali has something to offer for everyone.
Welcome to Bali, 'The Islands of Gods' and a total tropical haven. Ladened with beautiful temples, tranquil rice paddies, soft pink buildings and frangipani incense sticks on every doorstep, Bali is an island of variation from it's stretches of white sandy beaches in the South, sprawling jungles with hidden infinity pools in the jungle, complete isolation in the North and surfing and parties on the West coast. Each day on your Balinese adventure can be a complete contrast - learn about the Luwak coffee in a plantation tour, pick up some essentials in a local Sunday food market, bake in the sun by a pool, explore the area as you wind up and down the roads on a scooter and enjoy fresh seafood for dinner on the beach listening to the sound of the waves. This is your ultimate guide to planning where to go on your trip to Bali, including local essential information and details on what to expect from each area.
Currency: Indonesian Rupiah (IDR).
Climate & Time To Go: Bali has two distinctive seasons - Wet and Dry but the weather remains topical, warm and humid all year. The best time to go is low season - April, May June and September. High season is July, August and December so much busier and prices will be higher for flights and accommodation.
Language: Balinese is the most spoken language in Bali but you will also hear Indonesian. English is spoken in some parts but not strongly.
Cash/Cards/ATM's: Most western and modern cafes and restaurants will accept card but cash is best in Bali. Always carry around a handful of notes for smaller purchases, markets and local eateries. ATM's are widely accessible but not all allow you to withdraw large amounts of money so take this into account as you may have to do multiple withdrawals.
Mopeds: Scooter is the best way to get around Bali - they're super cheap (under £4 a day) and allow you to avoid all traffic, which there is a lot of in Bali. Be extra careful on the roads in Bali as they're busy and the locals can be aggressive drivers.
Grab: Grab (Bali's Uber) is the cheapest way to get around. Most short rides around the area you're staying will cost you £1-2 and any longer trips (2 hours+) are only around the £5-10 mark.
Water: Most definitely avoid drinking tap water in Bali and getting too much (if any) of it in your mouth/eyes when showering. Most accommodations will provide safe to drink filtered water.
Bali Belly: To avoid any tummy upsets or issues be extra careful when it comes to choosing where you eat out. Aways check reviews on Trip Advisor and stick to the busy stalls/warungs that are filled with locals!
ACCOMODATION
From hostels for as little as £5 a night to luxury resorts costing £1,000's, the accommodation options in Bali are endless, catering for all budgets and needs. What you get for your money this side of the world is what makes finding accommodation so enjoyable. For £25 and less a night you can stay in Balinese style villas, hip hotels or beautiful guesthouses and increasing your budget to £50+ a night will mean you will be staying in luxurious villas, hotels or ocean side resorts that would cost £100's elsewhere.
AirBnB: Be sure to take advantage of the reasonably priced villas available on Air BnB, which allow you to enjoy private houses with swimming pools, outdoor bathrooms, kitchens, multiple bedrooms and many can be found in the middle of the jungle with breathtaking views. For groups of people, these are the best way to find affordable and luxury accommodation.
Guesthouses: There are an abundant of guesthouses available in Bali. Varying from private homes that have been converted to guest accommodation with as little as 5 rooms up to 20, to hotel style lodging, they are readily available across the island and can be found on sites such as Booking.com.
Luxury Resorts & Hotels: The options for luxury hotels in Bali are endless. From the Four Seasons, AYANA Resort and Anantara, it is the home to many world luxury hotel groups that offer impeccable views of the jungle from your infinity pool to rooftop bars and divine spas.
Private Villas: For birthdays, parties and big celebrations with a large group of people, in addition to Air BnB there are plenty of websites offering exclusive private villas in all areas across the island.
Hostels: The cheapest places to sleep in Bali is through their many different hostel options, which can be found on HostelWorld. Dorms can be anything from £2-10 a night depending on the location and facilities however private rooms can soar up to £20-30 per night, of which you can get a private Air BnB for.
For Surfing and Hip Cafes…
CANGGU
Most definitely the most westernised and up and coming areas within Bali, Canggu is the ultimate place to go for trip that caters for all needs. Enjoy the super relaxed and slow feel to the place, have brunch in a Aussie inspired cafe serving up delicious eggs, smoothie bowls and coffee, watch the surf or have a go yourself on Batu Bolong beach which is located at the end of the main road 'Pantai Batu Bolong Street', feast on local delights, explore craft markets where you can barter for basket bags, straw hats and jewellery and sip on cocktails at Old Mans bar watching the sunset.
For MONKEYS, WATERFALLS, Local Craft Markets and Rice Fields
UBUD
Described as the heart of culture in Bali, Ubud is located in the uplands and often referred to as the centre for traditional crafts and dance. Surrounded by rainforest, rice paddies and Hindu temples, to have a relaxing few days surrounded by nothing but nature, Ubud is where to go. In the centre you'll find beautiful market stalls selling local crafts including basket bags, antiques, jewellery and paintings and some delicious warungs serving up local feasts and western delights. Go further out and you'll find yoga retreats/classes hidden in the jungle with spectacular views, magnificent rice terraces and Luwak coffee plantations. Other activities include having a luxurious (and cheap) massage, white water rafting day trips and wandering around the famous Monkey Forest.
For White Sandy Beaches, Turquoise Water and Seafood
JIMBARAN
A fishing village and resort in the South Bukit Peninsula of Bali, Jimbaran is the home to seafood, dining on the beach and only a short moped ride away from Bali's only true white sandy beaches that look out to beautiful crystal clear waters. Southwest of the area is where you'll find Balangan Beach, Dreamland Beach and Pandawa Beach, all perfect places to lounge for an afternoon in the sun, swim in the shallows and watch the surf. Jimbaran Bay itself is full of seafood warungs on the beachfront serving up fresh catch of the day, which you pay per KG. It's a relaxing alternative to the hustle and bustle of Canggu and offers beaches that are hard to find elsewhere in Bali.
For TempleS AND BEACHES
ULUWATU
An area of complete bliss and only about 15 minutes from Jimbaran, Uluwatu is another destination with stark contrast to Canggu, Ubud and Seminyak. If you're looking to surf big waves, relax on picturesque beaches, stay in a luxury resort or Balinese style guest house, visit the world famous sea temple, then Uluwatu is your home.
I hope this guide helps when it comes to planning where to go on your trip to Bali or gives you some inspiration on where to go next! I'm also going to be posting individual and more detailed guides for each area over the next week to give you information on where exactly to stay, eat and explore.
Jasmine x