Best in Beauty 2018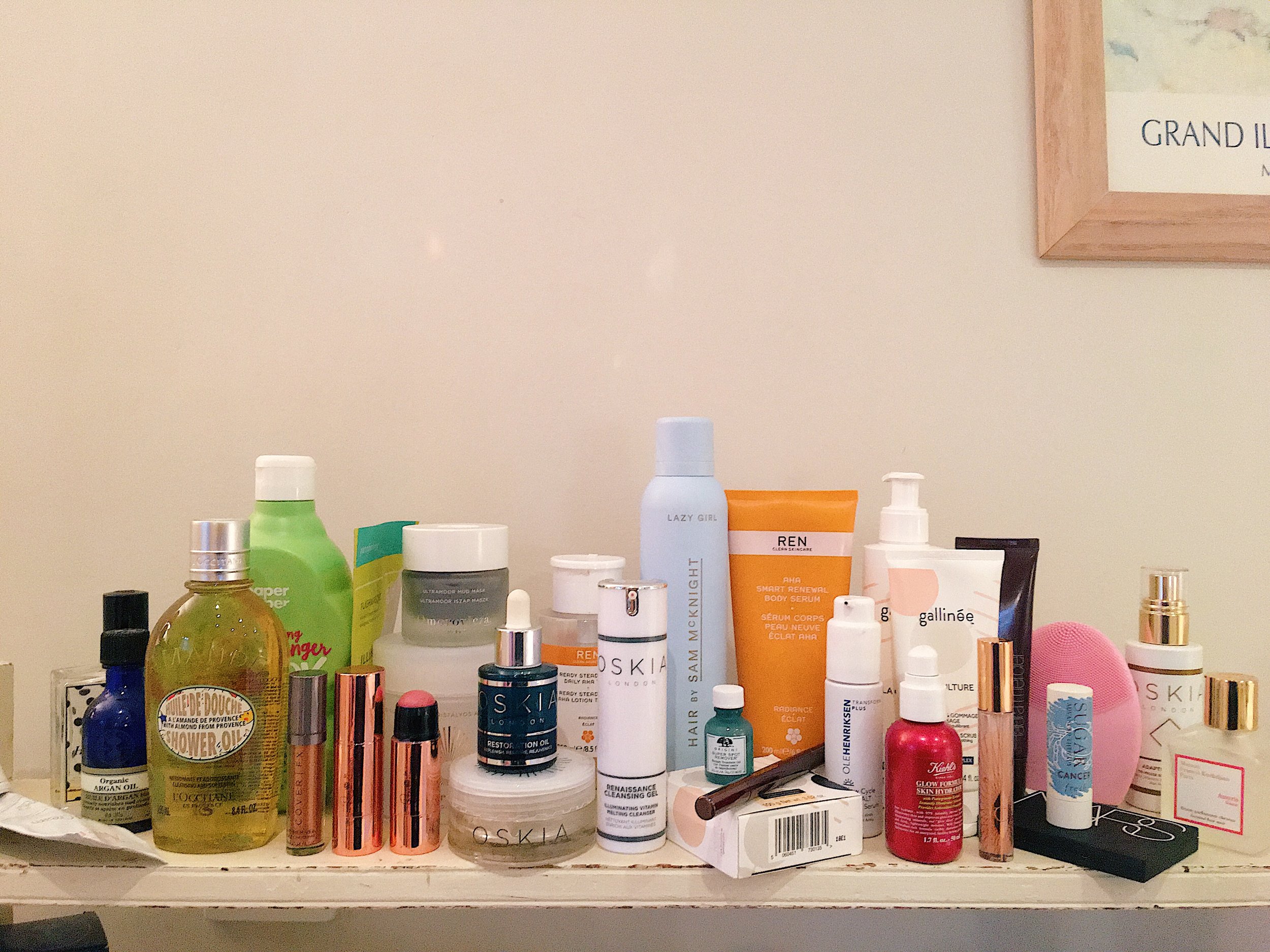 It's time for the beauty Oscars, time to celebrate my most favoured products in 2018. The products that maintained a healthy glow, the concealer that perfectly concealed without masking, a new hair brand on the block that's changed my routine, innovators and brand heroes, sustainable skin and more… The results are in, let's look through the 2018 BEST in BEAUTY list.
Best Serum:Ole Henriksen Glow Cycle… A cocktail of AHA's (glycolic and lactic acids) and Bakuchiol, Ole's GLOW serum fades dark spots, fine lines, brightens, provides skin with instant radiance and leaves skin looking plum and youthful.
Best Cream: Avené Cold Cream… Rich, creamy and immensely hydrating, this a staple moisturiser in my collection and perfect for dry, dehydrated and sensitive skin types. The thick consistency acts as an outer layer for the skin, protecting it from any external aggressors and locking in oils and serum.
Best Face Oil: Oskia Restoration Oil… A beautiful blend of precious oils that help to restore, rejuvenate and replenish the skin whilst providing a healthy shot of radiance.
Best for Blemishes: Origins Super Spot Remover… A salicylic acid wonder and blemish battling hero, this tiny bottle of gel treatment from Origins is the best thing I've used on my spots, whether it's to prevent them from coming out on the skin or to reduce redness of an existing spot, no squeezing is required as they vanish almost immediately.
Best Sheet Mask Brand: Patchology… Gels for the lips and eyes, hydrators, milky peels or an instant radiance booster, Patchology's sheet masks have taken the industry like a storm. My favourites are the Rejuvenating Eye Gels and the 5 minute masks that pack a punch and improve any skin concerns at a speedy pace.
Best Cleanser: Oskia Renaissance Gel*… Nothing beats the feel of this cleanser on the skin and the radiance it reveals once removed. Packed full of vitamins and enzymes, whilst breaking down makeup and grime it actively illuminates to target dullness, pigmentation, scarring, dryness and balances oiliness.
Best Glow Boosting Mask: Oskia Renaissance… Another enzyme filled product from Oskia that helps resurface the skin, breaking down bonds between dead skin cells to reveal luminosity and a clear complexion. Make room for this in your routine and you'll be thankful forever.
Best Deep Cleansing Mask: Omorovicza Ultra Moormud… An at home flash facial that rids the skin of any impurities from it's magical ingredients list. As the plankton re-ignites and the moor mud detoxes, amino acids have been used to gently exfoliate.
Best Toner: Ren Daily AHA Tonic… Glow restored, pore size reduced, cell renewal boosted and dryness fixed in one easy swipe on cotton wool. It's a favourite for a reason and the push down pump makes it even more of an essential.
Best Hybrid Product: Gallinée Face Mask & Scrub… Complete two steps in one with this multi-tasking skin resurfacing and radiance boosting hero from probiotic brand Gallinée. It's their best seller and I couldn't agree more.
Best in Hair: Hair by Sam McKnight… The legend hair stylist that is Sam McKnight couldn't have launched a cooler, more chic hair brand into the market. From the colours of the bottles, the perfume like scents of each product and the fun twist on the names, these are the hair products to have on your shelf in 2019.
Best for Glistening Limbs: Nuxe Multipurpose Dry Oil… THE most iconic oil for making limbs shine like they've never shone before. The perfect re-hydrator and party, beach or holiday oil to enhance the tan and make any outfit look more glam.
Best In Shower: L'Occitane Almond Shower Oil… A delectable body wash that slathers onto the skin as a thick oil whilst transforming into a rich, luxurious milky lather when mixed with water. The perfect shower gel alternative that makes bathing far more divine and leaves skin feeling supple and soft post shower/bath.
Best Luxury Bath Product: Omorovicza Gold Scrub… Is there a more glorious way to slough away at dead skin cells than with a colloidal gold scrub? For the most dreamy bathing experience yet, add this to your bathroom shelfie.
Best All Round Body Product: Gallinée Body Milk… A skin hydrator, resurfacer, soother and repairer all in one. This lightweight milk feeds the skin with nourishing sweet oils and a triple complex of Probiotic, Prebiotic and Lactic Acid to protect, heal and reveal radiance all over.
Best New Tan: Oskia Adaptive Tan Mist… I never thought tanning would be so easy until the launch of Oskia's tanning products. This tri-phase mist deepens over time, giving skin a gorgeously golden, streak free finish. The best part of all is that you can mist it all over before dressing or leaving the house, no need to leave it on for 6 hours and wash off.
Best Scent: Maison Kurkdijan Amyris… Iris from Florence, Amyris from Jamaica, Orange from California all deepened with a Amber Musk are what bring this perfume to life. A feminine and masculine blend that is irresistibly elegant.
Best Sustainable Brand: Soaper Duper… Naturally derived shower gels, body scrubs, body butters and lotions coming in delicious scents including nourishing Coconut, Spicy Ginger, Zesty Lemon, Fresh Fig and more. Not one product contains any nasties, everything is paraben, sulphate (you name it) free, the fun green bottle is made from 100% recycled plastic and as a brand, they support Water Aid, delivering soap and water to the countries that need it most.
Best Organic Brand: Neals Yard… It's hard not to become obsessed with everything from Neal's Yard, from their divine best selling Rose Beauty Balm to their aromatic bath salts and heavenly skincare lines, it's a brand not to be missed and one I used heavily last year.
Best Everyday Base: Laura Mercier Oil Free Tinted Moisturiser… Lightweight, build-able and perfectly dewy, this iconic tinted moisturiser allows you to build a barely there makeup look that lets your skin and natural glow shine through. Comfortable, customisable and long wearing, I've been using Laura Mercier tinted moisturisers for years and they are my absolute go to daily base!
Best Concealer: Glossier Stretch… This is the concealer of a lifetime for me. Never have I used a concealer that holds such a creamy, hydrating formula that covers redness and dark circles in just the right way AND offers a glowy finish.
Best Illuminating Base Product: Kiehl's Glow Formula… The first 'makeup' type product from Kiehl's and one that rocked the beauty world for it's golden tint that instantly boosts radiance for a healthy looking complexion and pomegranate infused formula that is packed full of anti-oxidants to hydrate and illuminate.
Best Brow: Hourglass Brow Arch Sculpting Pencil… A combination of pencil, wax and powder that gives the most natural looking sculpted brow arch that appears more defined and full. Best used in light upward strokes for a bushy brow look.
Best Blush: Rosie for Autograph Starstruck Lip and Cheek… By far the easiest, most blend-able, subtle looking cream blushes in the market and the only blush I reach for most days. Coming in 3 versatile shades, you can achieve glossy, perfectly 'blushed' rosy cheeks in seconds.
Best Bronzer: NARS Laguna… The matte bronzer that takes defined, sun-kissed cheeks to the next level. Apply with a fluffy brush for effortlessly dusted cheeks that gleam in a flattering warm wash of colour.
Best Glow Giver: Glossier Haloscope in Moonstone… This oil infused stick of pure radiance has a dual formula of crystal extracts for that lit from within, sparkle to the skin and a solid oil core of moisture for the perfect dewy finish.
Best Lip Balm: Fresh Sugar Lip Treatments… These really are the best lip balms around for ultra nourished, glossy looking lips that feel hydrated and smooth for hours on end. Coming in an array of shades, opt for one of their tinted balms for a rosy, nude or red tint or keep it classic with no tint at all.
Best Lip Booster: Charlotte Tilbury Plumping Lip Gloss… A high shine, non stick gloss containing marine collagen for plump and healthy looking lips.
Best in Eyes: Cover FX Shimmer Veils… Metallic lids really were my go to look for 2018. If I was wearing colour on my eyes, subtle and suitable for everyday or an evening look, I would be reaching for something pigmented, long wearing and shimmery. Glossier Lidstars were another favourite but these pocked sized veils from Cover FX were the perfect way to glam up any makeup look.
Best Makeup Brand: Glossier… 'Skin first, makeup second'. Glossier's mantra, ethos and everything I believe in too. The key to glowing skin not only comes from what you put inside your body but the products you layer on pre makeup. From Hyaluronic Acid and super food serums to soothing masks, rich moisturisers and an exfoliating acid, Glossier have a simple, affordable and effective skincare line but the products that got me hooked, all sit within their makeup range. Glowy, dewy, radiance, creamy and pigmented are all words that can be associated with each product from their skin tints and liquid blushes to metallic eye shadows and sheer lipsticks.
Best Skincare Brand: Oskia… From fruit enzyme face masks, energising serums, luxurious Vitamin E bath oil, pollution fighting cleansers and more, Oskia has been my go-to, most used and most loved skincare brand of 2018, if not ever. Never have I used so many products from a brand where they all really do work. Each and every product deliver noticeable, effective results and skin is always left looking fresh and healthy that holds a spectacular glow. I wrote a full brand overview post when I first started using the brand, which you can read here.
Most Exciting Product of 2018: REN AHA Smart Renewal Body Serum… Skincare brand REN launched the body twin to their Daily AHA Tonic last year and the zingy, Vitamin C scent and light formula had me hooked from the day I tried it. Using AHA's on our bodies is just as important as using them on our faces if we want to achieve luminosity all over, making this the perfect addition to ones routine, especially in the cold Winter months to prep skin pre sun.
I hope you enjoyed this big beauty product round up for the year - so many goodies! I'd love to hear which of the above you've used / what your favourites have been.
Love, Jasmine x