Everything You Need from Oskia Skincare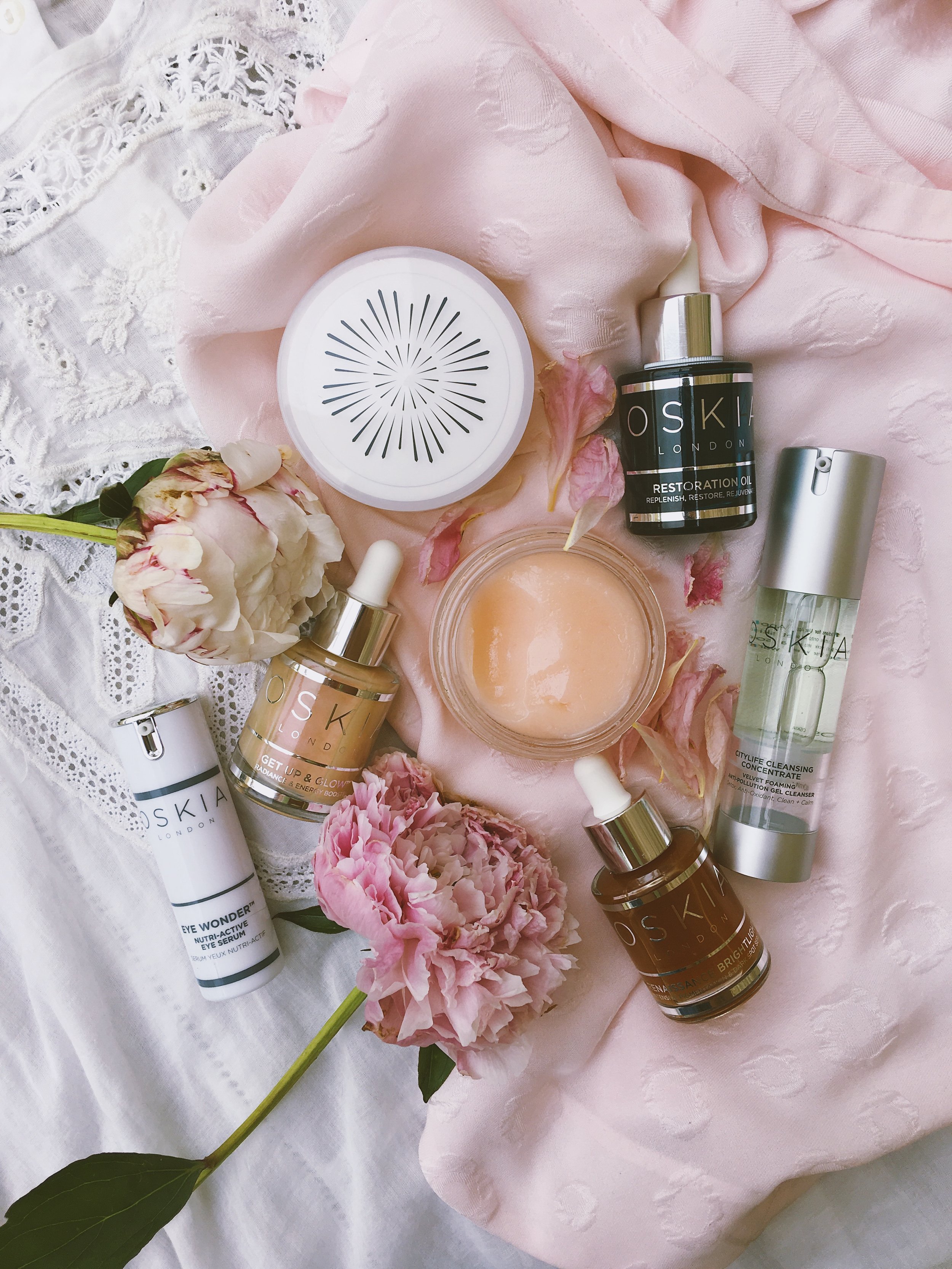 Oskia is a luxury bio-active skincare brand founded by Georgie Cleeve back in 2009 and since has developed a range of beautiful skincare products that give you healthy, glowing and youthful looking skin. Taking a modern approach to skincare, Oskia use fruit enzymes, vitamins, prebiotics, peptide complexes and MSM in each of their products to target all skincare concerns and guarantee us skincare junkies gloriously luminous skin.
I've been lucky enough to have tried quite a few products from the Oskia range and having been falling more and more in love with them over the past 2 months, I thought it was time to tell you all about my favourites and the ones worth having in your skincare routine.
Rebalancing, nourishing, glow-boosting and hydrating, this incredible oil from Oskia is suitable for all skin types and what I've been slathering on my skin for the most couple of months. It's been formulated with Alaria Esculenta Algae and African Amcella to boost skins suppleness and firmness whilst a potent blend of floral oils and extracts have been used to refresh skins luminosity, reduce redness, soothe blemishes and protect against any external aggressors. Due to it's lightweight consistency, it melts into the skin instantly leaving a beautiful silky feel and youthful look to the skin promoting a lit from within glow when worn underneath makeup. Targeting multiple skin concerns, the Restoration Oil is an all round wonder product that helps diminish any dryness, breakouts and signs of ageing all the while holding a delicate scent of Rose, Geranium and Orange that makes applying this oil all the more enjoyable.
Designed to correct uneven skin tones, restore luminosity and brighten dark spots or post blemish- discolouration, this 'supercharged' serum from Oskia is your best option for when skins been in the sun for too long, looking lacklustre, suffering from UV damage or simply needs a boost in energy. Brightlight has been formulated with Oskia's unique 'Nanobright' liposome that is a combination of Vitamin C, arbutin and glutathione to tackle the stages of melanin synthesis - essentially it's going to fade any discolouration, pigmentation or scarring. Fruit enzymes have also been added to aid in the natural exfoliation process, helping to remove any dead skin cells that are dulling the complexion and after use, skin is left gleaming with light.
The real glow booster of the bunch, this pearlescent, golden serum helps to reverse any early signs of ageing by stimulating collagen production and protecting the skin from any environmental and lifestyle aggressors. The serum itself is ultra light but considered a heavyweight product in terms of the ingredients and results it brings to complexions. The milk-peptides and light reflecting particles instantly brighten the skin making it the perfect product to wear underneath makeup or pressed on top for added glow whereas the MSM and Swiss Apple Stem Cells will boost collagen product to guarantee long term results of healthy cells, hydrated skin and a smooth texture.
The blemish busting and refreshing gel to velvet cleanser that all skincare enthusiasts need on their bathroom shelf. Formulated with a potent combination of vitamins A, C, E and F to boost skins health, eucalyptus and MSM to soothe, copper to detoxify and cactus stem cell elixir to hydrate, it's a another supercharged product from Oskia that keeps skin problem free, squeaky clean and pH balanced.
With a base of soothing rose water, this refreshing gel eye serum has been brightening my eyes from lightening my dark circles to reducing any puffiness in the morning and preventing fine lines for the past month. It's the perfect morning eye product due to it's lightweight texture that sits beautifully underneath concealer and cool effect on the skin that cools and refreshes. Packed full of youth boosting ingredients, the Nutri Active eye serum again stars the brands MSM to repair but is rich in peptides and antioxidants to restore skin cells to their prime health for healthy and bright peepers.
Brand favourite, cult product and best seller for a reason, the Renaissance mask will grant you luminous and baby soft skin the moment you put it on. Rich in Passion Fruit and Papaya enzymes, this is a radiance boosting and hydrating face mask that works at removing all dead skin cells to reveal the new glowing skin that lies beneath. What makes this makes so special and such a joy to use is it's buttery balm texture that melts into the skin and smells utterly divine, not to mention the fruit and lactic acid that regenerate and resurface.
The best exfoliator on the block, introducing the exfoliating balm that does it all; refines, unclogs pores, lifts dead cells, heals and brightens all the while being a comfortable and soothing experience. This paste like buttery balm from Oskia contains teeny tiny grains of pure MSM granules and silica to very gentle polish the skins surface without being too abrasive, a Zinc complex to soothe any signs of irritation and prebiotic to prevent the growth of harmful bacterias to avoid breakouts. Perfect for all skin-types and the most luxurious exfoliating balm you'll ever use on your skin.