Skin 101: Probiotic Skincare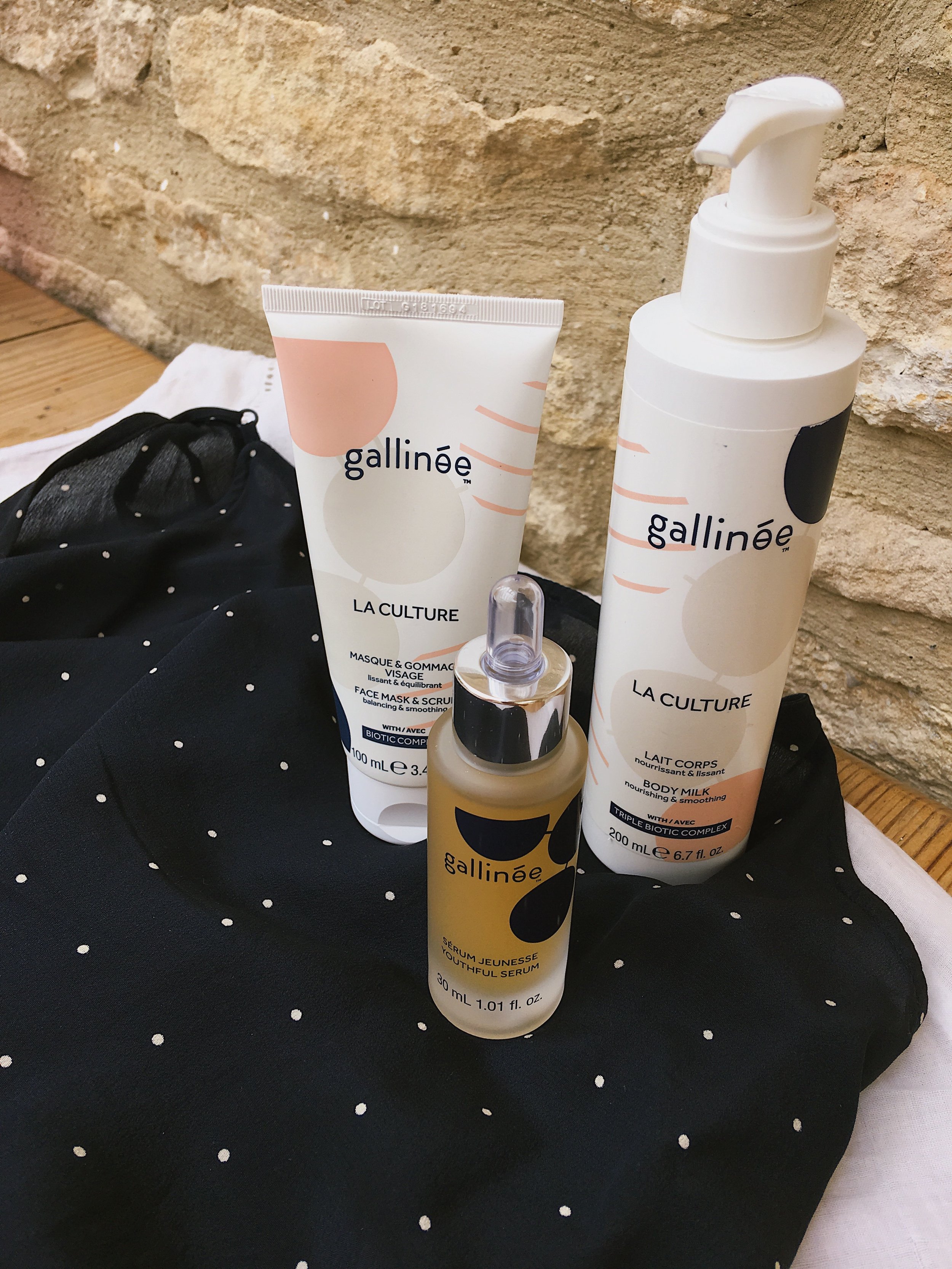 Thanks to the unfolding new skincare trend of products that encourage the re-population of good bacteria, we are seeing more and more of probiotics in our skincare today amongst both some of our favourite brands and new ones that are emerging into the market. After testing and researching into probiotics, prebiotics and leading French skincare brand Gallinée, I'm hear to tell you why probiotic skincare is good for us and why it should play a major role in our skincare routines today.
WHAT ARE PROBIOTICS?
Probiotics are 'good bacteria', also known as live micro-organisms that naturally live on the surface of our skin, creating our skins protective shield, the micro-biome which determines which bacterias to let in and which to keep out. According to Gallinée brand founder Marie Drago these "good bacterias are damaged by modern lifestyles and pollution which leads to stressed sensitive skin" which can cause redness, breakouts and irritation. Probiotics provide us with the following three skin benefits that help maintain a pH balanced, hydrated, resilient and radiant complexion: 1) they create a protective shield 2) they produce natural anti-biotic 'antimicrobial' peptides that combat bad bacteria and 3) they boost the overall functioning of our skin, helping it to fight off those external aggressors such as pollution, sun damage and free radicals.
For many years probiotics have been treating and preventing digestive systems due to their soothing and calming effects which is what lead skincare experts behind both leading and emerging skincare brands in recent years to test these probiotics in their products to find out of they have the same effects on our skin.
Gallinée
For Gallinée, it all began with the microbiome (all good bacteria and micro-organisms that live in and on our skin) and at Gallinée, their mission is to create products that take care of our microbiome to bring nourish skin and keep it at full health. All of Gallinée's products contain a high concentration of active ingredients and their unique Triple Biotic Complex which is a mix of prebiotics, probiotics and lactic acid, all of which help support our skins 'good bacteria', boost a radiant complexion and simply bring skin back to life.
Gallinée use one of the healthiest probiotics from the Lactobacillus family in each of their products to ensure skin is protected in every step of a Gallinée skincare routine.
THE PRODUCTS
Due to the use of actives and probiotics in Gallinée's new serum, skin is guaranteed to be looking more hydrated, nourished, radiant and smooth through improved skin texture. Gallinée have used super skincare ingredient lactic acid, an AHA that ensures skin remains at the correct pH level whilst the bonds between the dead skin cells are gently broken down to reveal the soft, radiant skin beneath. Alongside lactic acid, Fern extract has been used for its unique properties that firm and lift the skin. Working collaboratively, the probiotics used in this Youthful Serum support the existing bacteria in our skin to keep it in tip top condition at all times.
Formulated again with Gallinée's advanced and innovative biotic complex, antioxidant vitamin E, revitalising sea minerals, radiant revealing lactic acid, purifying kaolin white clay and prebiotics that protect and nourish our skins microbiome, this multi tasking face mask and scrub in one is currently one of the best things on my skincare shelf. The ultra smooth yet slightly gritty texture gives skin an instant radiance boost once removed as it gently exfoliates, removing all dead skin cells and giving skins microcirculation a boost to get the blood to the surface for a healthier looking complexion.
This skin hydrating, nourishing and softening effects of this repairing body milk are what make this such a special product. The light, creamy silk like texture instantly melts and absorbs into the skin leaving no sticky residue behind meaning you can dress immediately. Sweet almond oil and bogbean have not only been used to lightly scent the body milk but nourish and firm whilst like all Gallinée products, their Triple Biotic Complex of prebiotics, probiotics and postbiotics helps support skin's microbiome in an effective and gentle manor that delivers results, fast.