Understanding AHA's with REN Skincare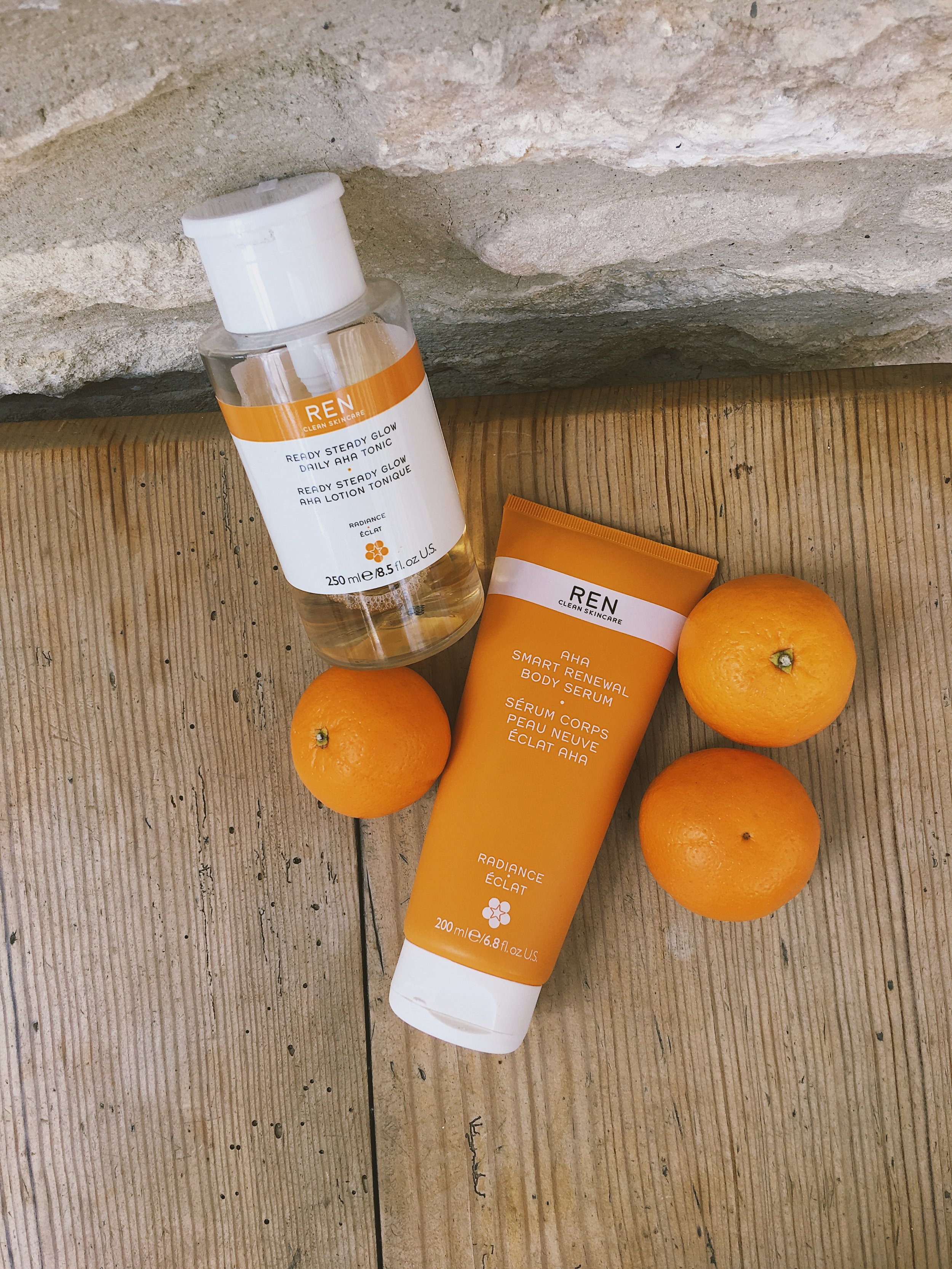 Over the last couple of years, the beauty industry has taken off in terms of 'trends' to follow whether it's a new blush technique or a skincare ingredient and recently both AHA's (Alpha Hydroxy Acids) and BHA's (Beta Hydroxy Acids) have been the topic of conversation. Skincare enthusiasts, beauty editors, directors and everyday consumers across the globe who crave that all year round glow have been fascinated by the way acids work and they have very much become the 'now' thing to be using in our skincare routines. Previously, Pixi Glow Tonic stole the show and due to it's succession, many other brands have released their own version and there's a new acid tonic on the block by 'clean skincare' brand REN that's got everyone talking, exfoliating and glowing both on their face and body.
Let's start with what these AHA's actually are... Alpha Hydroxy's are naturally occurring acids often found in fruits and sugar cane that work on the surface of the skin to dissolve the bonds between dead skin cells that eventually will speed up the removal process to enable a smoother, clearer and brighter complexion to shine through. AHA's are water soluble and therefore do not penetrate any deeper than the skins surface but remain incredibly effective as they hold the ability to reduce pigmentation, dark spots, acne scarring and any dullness, making them an ingredient suitable for all skin types. The most common AHA's and those apparent in REN's AHA products are Glycolic Acid and Lactic Acid, two very effective acids that will give you the glow you've been looking for all these years.
Gentle enough to be used in your daily skincare routine, REN's AHA Tonic will tackle all skin problems relating to dullness, unevenness, scarring and dark spots leaving you with beautifully radiant skin each morning. The lactic acid and willow bark (BHA) extract work collaboratively to tone, reduce pore size and blemishes, smooth and gently exfoliate the skin whilst the skin calming azelaic acid aids in the brightening, soothing and refining process to guarantee that healthy glow. Ready Steady Glow has a handy press down pump applicator that perfectly drenches a cotton pad in the tonic so it's instantly ready to be swiped all over the skin, post cleanse and pre any serums, creams and/or oils. This wonder product is suitable for all skin-types however those who are more prone to sensitivity should start introducing this product into their routine once or twice a week for the best results.
We love to use Alpha Hydroxy Acids on our complexion and it's now time to start using them on our body with REN's smart renewal body serum that boosts skins natural exfoliation process for even, healthy and glowing skin all over. Chemical exfoliants beat physicals any day in terms of their effectiveness and results which is not only due to them being far less abrasive and more gentle on the skin but for the fact that they work on a more 'skin scientific' basis as the AHA's work at dissolving those bonds that bind together dead cells that will dull your skins surface over time, hiding that luminous and bright complexion that lies beneath. In addition to Lactic Acid, REN have added vegetable derived Xylitol which is a natural alcohol that holds onto moisture for longer and attracts water molecules that already exist in your skin to the surface for long-lasting hydration and Probiotics to help boost skins barrier for strengthened protection against external aggressors.