New Beauty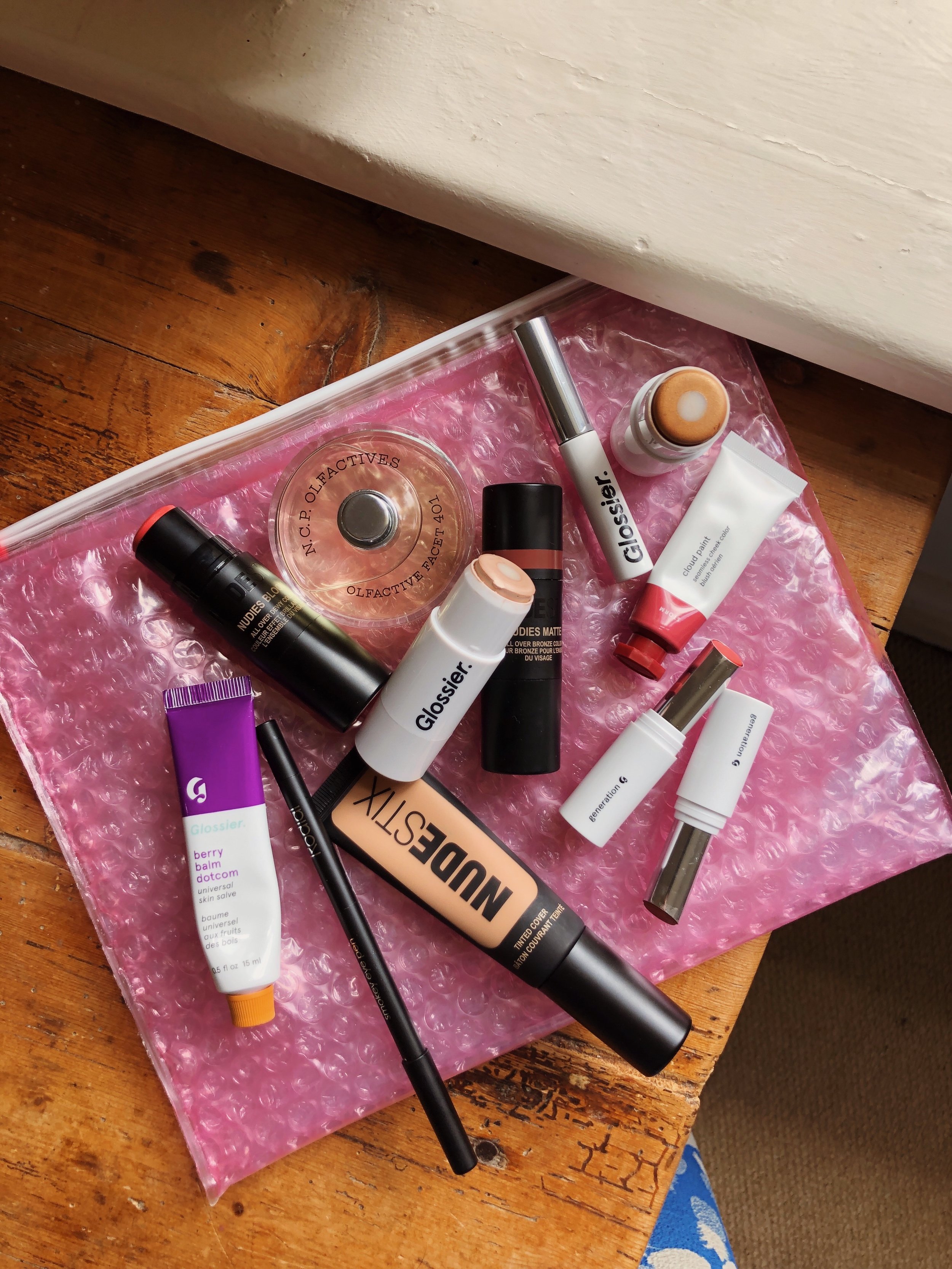 Love new makeup? Me too and that's what I'm going to be talking about today. New generation lipsticks, oil infused highlights, dewy cheek sticks changing the blush game, a fragrance brand that's disrupting the industry, the only foundation that's made me switch from my long-standing favourite and an eye liner that's got me wearing a smoky eye…
Glossier
Being a complete advocate of the 'no-makeup makeup', less is more approach to beauty, it comes as no surprise that Glossier - the pioneers of makeup that enhances, not masks and that products should be glossy and glowy - is up there as one of my favourite ever makeup brands. My love for the brand first began with their seamless check stains, 'Cloud Paint', which remains as my favourite of their makeup products (and blush in general) and I've recently branched my colour choice out to Storm*, a warm rose that creates the perfect 'blushing from within' look and transforms the skin within seconds with it's healthy, sheer and buildable finish. One of my most recent Glossier additions is Boy Brow*, the ultimate brow fluffer upper and a product I can't believe I haven't tried before, being such a lover of the brushed up brow look myself. I've been using the clear version to soften, condition and tame without adding a tint - a nice option for super low key makeup look days. My lipstick collection has also had a shake-up as I introduce Generation G* in Cake (a subtle peach) and Zip (a poppy red). Sheer, matte, long-wearing and comfortable, these game-changing lipsticks have a natural, undone look that I find looks best when blotted on with not much precision. Another new player in the lip department is the one and only Balm Dotcom* but in it's newest Berry shade. Jammy and juicy, Balm Dotcom is a multi-purpose salve that nourishes dry lips whilst adding a fruity tint of colour and flavour. With an addiction to glossy, radiant and glowy skin, Glossier's dew effect highlighter, Haloscope* is up there in my top 3 highlights of all time and at the moment, sits in position 1. I've always used Moonstone for its high shine glaze effect but I've been introduced to Quartz and Topaz by the lovely Glossier girls and I'm an absolute convert. Quartz is a super flattering and wearable everyday pearlescent highlight which I buff into the high points of my face and Topaz is a deep golden bronze that I buff in all over for a healthy sun-kissed glow.
NUDESTIX
I'm SO excited to be talking about and sharing this brand with you guys as I am totally obsessed and an official NudeStix addict. NudeStix is a completely new brand to my collection, I've always been intrigued and tried them out in SpaceNK stores but never actually owned any products so the Canadian PR team got in touch and very kindly sent over a huge selection of products to me, including some original cheek sticks, some lip pencils and the all new and hugely exciting, liquid foundation. Founded by Taylor and Ally Franknel, NudeStix is a capsule collection of multi-tasking, cream stick products ranging from lips, cheeks and eyes. Each product is versatile, has a dozen different uses and comes in a huge selection of the most beautiful shades - nudes, reds, pinks, browns, you name it. The first product I tried out was the latest launch; Tinted Cover (available in the UK on Cult Beauty sometime this month), a natural finish foundation with the look and feel of a tinted moisturiser which comes in 15 universal shades (I use Nude 4 and 5). I have yet to be drawn away from my forever favourite Laura Mercier Tinted Moisturiser UNTIL, I tried this product. Tinted Cover simply makes skin look stunning - it's sheer, buildable coverage allows you to wear this for a super laid back barely-there daily look but to also be built up for a long-lasting evening base, it blends in seamlessly and looks just like skin, no masking or heaviness, no matter how much you build it up. The first of the cheek sticks that stood out to me the most and is now apart of my daily makeup routine is Nudies Bloom in Poppy Girl*, apart of their latest 'Bloom' cheek stick launch that focusses on creating beautiful fresh and natural cheeks that are bursting in a wash of coloured dewiness. Poppy Girl is a bright pinky red, glowy and sheer yet bright shade and I've been scribbling it across my cheeks and lips for a fun, flawless finish. Nudies Matte Blush & Bronze* collection is one of the NudeStix OG's and In The Nude is a light brown neutral shade with peach undertones that again, I've been blotting onto my eyelids and lips for a soft matte finish.
Rodial
A brand I've mainly used for their skincare ranges and lip liners, Rodial has opened my eyes (quite literally) to the world of eyeliner. I'm not usually one for a lined look as I often find they look too heavy and bold on me, however, I was playing around the other day and was pleasantly surprised by the ease of smudging the Smoky Brown Eye Pencil on my top lash line. Unlike other liners I've used to create this look, the Rodial kohl liner is rich in pigment, intense and provides a gel-like definition that makes it much easier to apply and blend in.
N.C.P olfactive
I'm always intrigued by new scents, particularly when it's a brand as unique and innovative as N.C.P Olfactive. I admire the simplistic approach to fragrance this brand as taken and the concept it was born from - fragrance layering to create unique, complex scents. I too, agree with N.C.P that our fragrance should reflect our mood and that we should have the opportunity to easily switch our scents depending on how we feel, what kind of day we are going to have and the time of year. Having already caused huge disruption in the fragrance industry, N.C.P are a contemporary fragrance house that creates their sophisticated scents in the heart of Paris. OCP 401 Lavender and Juniper* is my favourite of the 4 I've tried and is a retro fragrance built around aromatics, woods and musks that defines confidence and elegance. Another unique characteristic about N.C.P Olfactive is the bottle designs where the width and spacing between the lines indicate how strong the scent is. N.C.P, I'm obsessed with you and I could bathe in your delicious scents.
I'd love to know if you've tried any of these products/brands so please let me know in the comments below!
Jasmine x