48 Hours in Dubrovnik
Dubrovnik; the vision of beauty and everything you want from a city break. Delicious traditional restaurants, cute cosy and magnificently decorated cafes, wine bars filled with local bottles, ice-cream parlours with immense flavours and toppings, magical swimming spots, breathtaking views and chic boutique hotels, all of which are surrounded by crystal clear, turquoise waters. Not to mention, its home to the Game of Thrones, featured as sets in many blockbuster films and home to the worlds oldest pharmacy. Added it to your travel list yet? Having spent 4 days in Dubrovnik, I've put together a travel guide of my favourite places to tay, eat, visit, drink and swim and popped it all into a '48 hours' guide, recommending simply the best spots.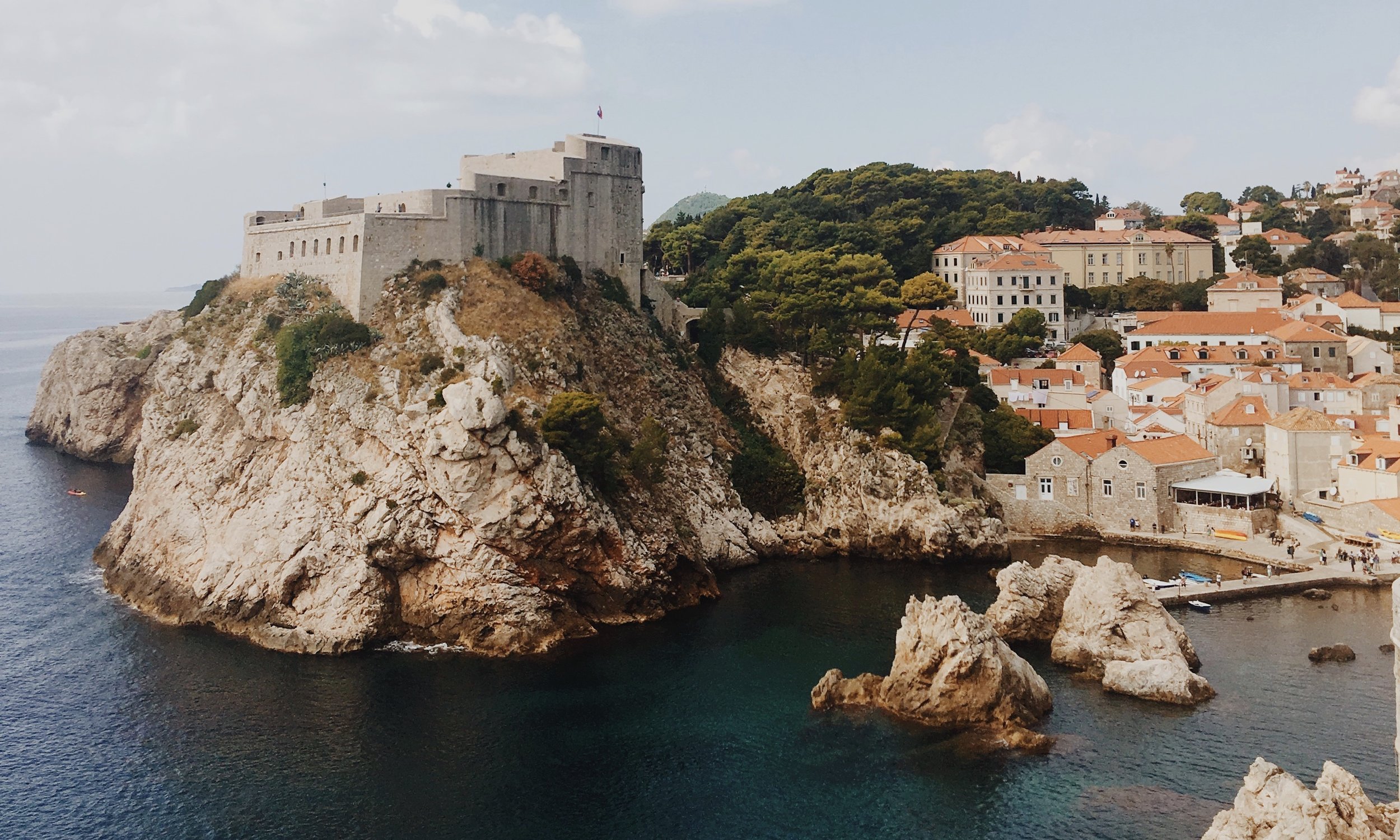 WHERE TO STAY
Old Town:
There are many options for staying in the Old Town, both apartments, hotels and shabby chic bread and breakfasts. Hotel wise, the very special St Josephs Hotel is a 16th-century stone building that has been restored into an elegant hotel, located on a tranquil street off the Stradun, the main street in Dubrovnik Old Town. Its an idyllic spot for those wanting to step out and have the city on their doorstep. With just 6 suites available, St Josephs is an expensive stay with rooms starting at around £300 per night in high season and around £200 in low season. In the heart of the pedestrian only Old Town, right in the middle of the fruit and vegetable market square is Pučić Palace Hotel; a five star stay and cosy hotel with antique furnishings. The best time to stay here is in low season where room prices start from £103 a night as from May onwards, prices can soar to up to £500 a night due to its superb location. This is one to visit if you aren't fussed about missing the sun! For a chic guest house, definitely check out Fresh Sheets Cathedral Bed and Breakfast - super fresh looking and lovely decor in each room, prices in high season are around £200 a night.
Lapad:
Located just a short distance from the centre of Old Town, we stayed in Lapad for our 4 day trip (due to it's much more affordable prices) and it was the perfect location for what we needed. Nestled between the city and the beach, Lapad is around a 5-10 minute bus ride from the Old Town for 20 Kuna (£2.40) or a scenic 20 minute walk with stunning views of the Adriatic and in the other direction, is a 15-20 minute walk from beautiful swimming spots. We booked our apartment through AirBnB where there are endless offerings for both Lapad and Old Town.
WHERE TO EAT & DRINK
Food
Dubrovnik appears to have a league of it's own for fine dining. Endless choices for amazing fancy restaurants with delicious menus and even better locations, starting with Restaurant 360. Set within the city walls, you can enjoy traditional Mediterranean cuisine and fine wines sat overlooking the Adriatic from above. For foodies, head to the rustic restaurant Kopun for Croatian national cuisine at reasonable prices. If you love street-food and seafood then Barba is the place for you - tucked away along one of the side streets off the Stradun, enjoy fresh octopus burgers, salads and fried fish at a super affordable cost for a quick bite to eat at lunch. For really good, authentic pizza, I can't recommend Olivia Pizzeria enough - in a superb location, sit outside and soak up the sunshine in the hustle and bustle of the Old Town with endless pizza choices to pick from.
Heading out of Old Town and into Dubrovnik's Neighbourhood Lapad, where we stayed, lies Taverna Otto; undoubtedly, the best restaurant we ate at during our stay. Built in a renovated stone boatshed, Otto offers a tasty and exquisite menu that plays with flavours and dishes. We tucked into some of the best Octopus we've ever tasted, tender pork ribs, delectable home-made soup and beautiful wines. A restaurant everyone should visit and one we will definitely be returning to. Also in Lapad, is Pantarul, the home of homemade pastas and risottos, seasonal main dishes, local fresh fish and meats. Unpretentious, decent food, at its best. If you're in Dubrovnik, planning a trip and love ice-cream then you have got to visit Peppinos; thick and creamy gelato available in over 20 flavours from your standard Strawberry with a twist to Tiramisu, Pistachio, Mars, and more remakes made with chocolate bar or sweet toppings.
Drink:
Whether you're after fancy cocktails, smart wines, Croatian beers or any old drink, Dubrovnik has the perfect drinking spots for all, some in the heart of the Old Town, up tiny busy side streets packed with restaurants and people and some tucked away in caves built into the walls. One of our favourite places we visited on the trip was Cave Bar More, part of the boutique hotel that lies above it is this spectacular cave that has been transformed into a bar, lit with fairy-lights, dim ambient lighting and filled with chic decor. For evening drinks, enjoy the lit up cave or for a morning coffee, why not sit out on the wooden decking which you can dive off of, into the sea. It's the perfect setting. A visitors favourite; Buzza Bar, known as the 'hole in the wall', can be accessed through a small arch in the city walls and is the spot to have a relaxed (expensive) drink on the waters front. Dive in, go swimming or simply sit and enjoy the view. If you love wines then you'll love D'Vino, Dubrovniks first real wine bar stocking over 100 different wines available by the bottle or glass. D'Vino is situated on a side street and is a great spot for pre-dinner drinks or an afternoon glass of wine (or two) enjoyed alone or with a charcuterie board.
WHAT TO DO
City Wall Walk:
One of the best ways to see Dubrovnik for its true beauty is the City Walk. At 150 Krona per ticket (£18), this is an absolute must do when in Dubrovnik. Experience breathtaking views of the entire city from way above and look out into the beautiful ocean for miles on this 2km stroll. This is a major tourist attraction so in peak season, gets pretty busy but its well worth it. We went at the beginning of October when temperatures were still 27 degrees and it wasn't too busy. Refresh, refuel and relax about half way around in the cafe with an ice-cream or hot/cold drink sitting on the edge, looking out to sea.
Swimming
What makes Dubrovnik stand out over any other place is the endless swimming spots surrounding the city. Whilst we spent a-lot of our trip exploring Old Town, due to the crazy heat we had we sunbathed, swam and snorkelled everyday. Staying in Lapad meant we were just a 15 minute walk from the sea so most days, we'd explore. For on hidden away, rocky coves covered by pine trees (some with steps into the sea) that make perfect, relaxing and beautiful spots for sunbathing and swimming head past Lapad Bay and Cave More. For beach sunbathing, head to Bellevue Beach for a quick dip and snorkel; situated about a 5 minute walk out of Old Town it's accessible, close to town and worth visiting for a refreshing swim after a long day. Wind down a very narrow road and path, past the swanky 5* Hotel Bellevue and you'll find a small pebble bay with turquoise, clear and glistening waters.
Thanks so much for reading my Dubrovnik Guide. I hope it gave you some inspiration on planning your trip there!
Jasmine x