Minimal Makeup To Make You Glow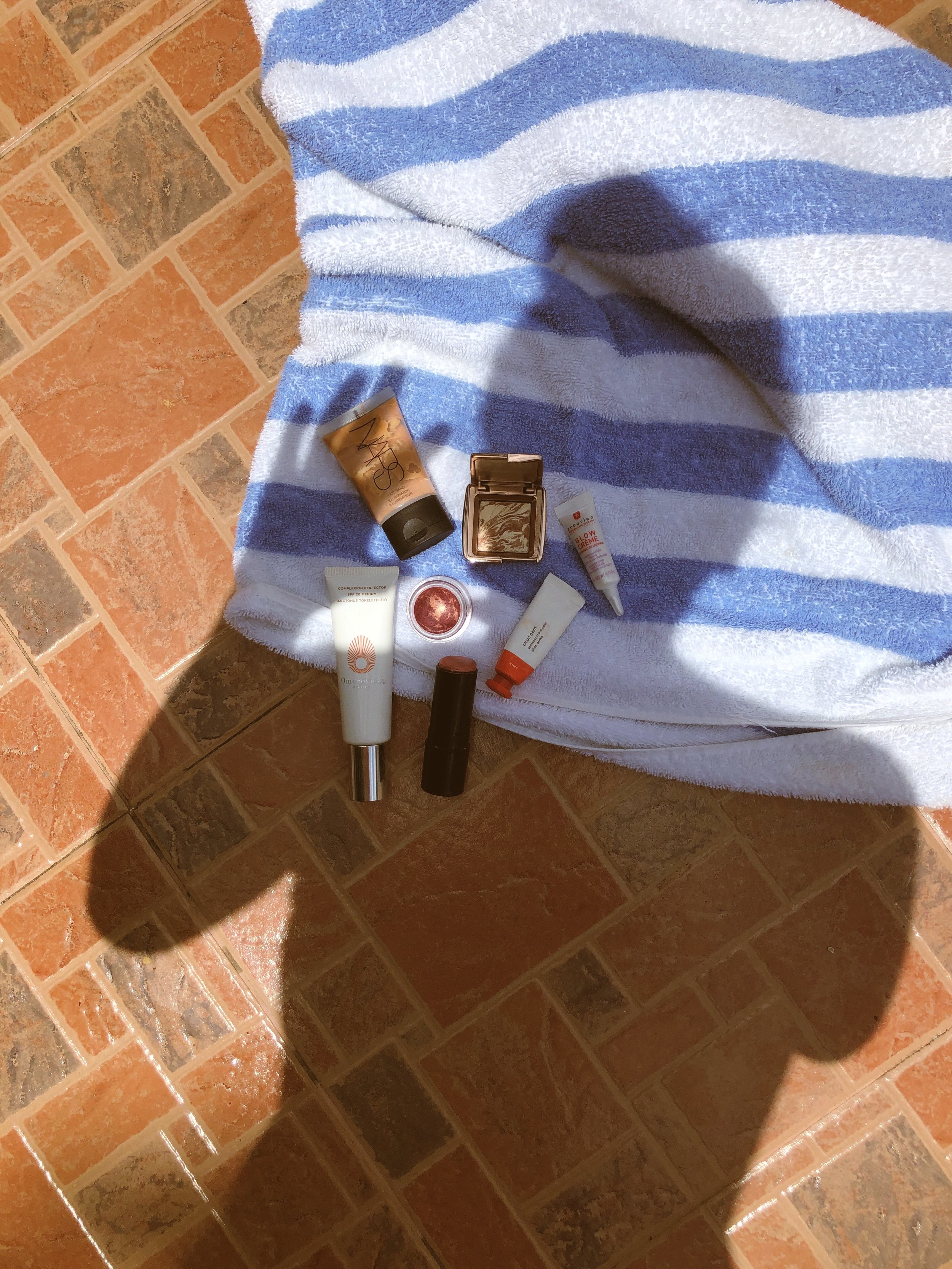 Creating a sheeny glow that looks natural and lit from within has never been easier than with the abundant of gel, cream and liquid formula's available to us today. 'Glowing makeup' is a look I aim to achieve whenever I'm applying makeup, whether it's for a evening do, work, on holiday or just something easy and wear-able for day to day. By using hydrating bases, lightweight tints and creams or liquids for adding colour, I'm guaranteed a much fresher finish and a complexion that oozes with dewiness. Below, are the current products I can't stop using for getting vibrant, sun-kissed, glossy and even looking skin.
The key to glowing skin is with skincare so once you've layered that on and locked all the good stuff in with a radiant face cream and apply a glow giving primer or liquid highlighter all over the face. This will create an extra layer of radiance that will shine through any products going on top, creating a heavenly lit from within glow. I love to use the Erborian Glow Crème* for this step as it's incredibly lightweight, enriched with Licorice extract which brightens the complexion to provide a fresh dewy look and has a subtle pearly effect that catches the light beautifully.
When it comes to adding coverage for a natural glowy makeup look, something lightweight like a Tinted Moisturiser or CC Cream that lets the skin breathe, will help achieve the best results of luminous, barely there makeup. The Omorovicza Complexion Perfector* is a true wonder in this department and has been my most reached for base over the past few months. It's beautifully light, flawless and build-able formula is enriched with Hyaluronic Acid to hydrate, Vitamin C to energise and White Lupin to revitalise the skin throughout the day. Coming in just 3 shades - Light, Medium and Dark - this tinted cream evens out the skin tone, corrects any redness or small blemishes and will leave you looking vibrant, youthful and full of life.
Highlighter is my absolute favourite step when creating a makeup look and since discovering the NARS Hot Sand Illuminator earlier this year, I've been even more obsessed. I'll sometimes use this pre tinted moisturiser instead of the Erborian Glow Creme as it works really well as a glowy post skincare step but my favourite way to use this, is dabbed on the high points of my face. When it comes to picking a highlighter shade, I opt for all sorts - the Glossier Moonstone Haloscope is another of my favourites and that's a clear, opalescent shade - whereas this from NARS, is a champagne peach, through and through. For me, this is the best product for achieving that lit from within glow as the reflecting liquid refreshes the skin with a sheer, delectable and a non glitter, very subtle shimmer.
Whether it's Summer or Winter, I will mostly always reach for a cream or liquid blush. I adore how they glide onto the skin, adding a sheer or intense burst of colour that illuminates, melts in and looks as though you are naturally 'blushing' - think back from a run without the sweat. NARS have always been one of my favourite makeup brands and their famous Multiple Stick was one of my first ever high-end beauty products, I have 3 of these versatile sticks, but Orgasm will always remain my hero colour. A cult shade for a reason, Orgasm offers a warm pink tint with a subtle golden shimmer running through it that reflects beautifully off the skin when caught in the light. For a more vibrant burst of colour that still appears natural, I love the gel/cream like texture of the Glossier Cloud Paints*. Dawn, as described by Glossier is a 'sunny coral' and a universally flattering shade that perfectly compliments a sun-kissed complexion. Blending seamlessly into a sheer, yet bright healthy cheek tint, these tubes of magic are buildable, easy and not to be missed. Discontinued but still a firm hero in my makeup bag so one I couldn't not talk about, is the BECCA Raspberry Opal Shimmer Souffle. Whipped and bouncy in the pot, this deep pink blush has an opal shimmer running through it to help illuminate whilst adding a muted yet punchy tint.
A Summer, or no makeup look for me in fact, is not complete without bronzer. Whether you prefer a cream, liquid or powder formula they are the secret weapon to faking the look as though you've been in the sun for hours. I love my NARS Laguna Bronzer but this mini Hourglass Ambient Lighting Bronzer* has recently been making my bronzed face dreams come true. Enhanced with luminescent technology, Hourglass have created a bronzing powder that adds dimension and along with a soft focus finish to the face that never falls flat. I love to press this onto the cheeks, nose, temples and jawline to perfectly mimic that fresh out the sun and off the beach look, whilst sculpting slightly.
What are your favourite makeup products for achieving natural, glowy skin?
Jasmine x