Beauty Beyond The Beach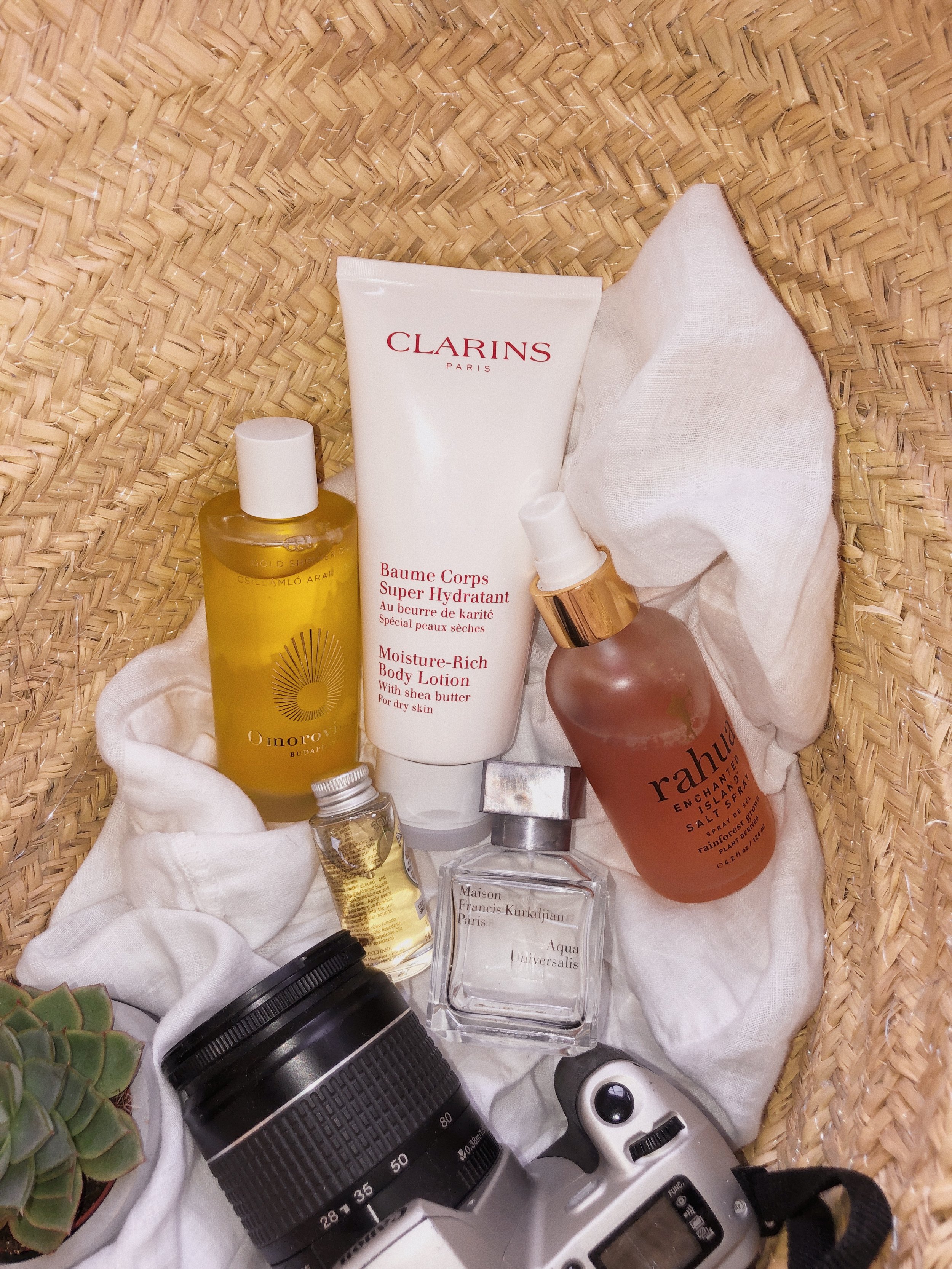 You're on holiday, back in your hotel, villa or B&B and head to toe in salt, suncream and sand after a long day at your new favourite beach. Having swam in the crystal clear ocean and basked in the sunshine to deepen your golden tan or enjoyed a book in the shade, you are ready endeavour on a luxurious pamper evening.
Here are 5 products to use or steps to take, to make you feel more and more like a tropical goddess.
Lather the L'Occitane Almond Shower Oil* all over your limbs and watch the oil droplets make you glisten as the step out of the shower before slathering yourself in a decent layer of the Clarins Moisture Rich Body Lotion. A moisture replenishing rich lotion with notes of sunny peach milk, soothing coconut, juicy orange blossom and cooling aloe that all cocoon the skin in a soothing blanket of hydration after a day under the sun.
To keep those mermaid-like, cool girl waves that naturally fall drape over your shoulders having been in and out of the sea all day, spritz your damp locks post shower with the Rahua Enchanted Island Salt Spray*. Inspired by the Galapagos Islands, the exotic scent of passion fruit will take you on a paradise hair journey, that leaves your hair looking perfectly tousled, shiny and smelling deliciously Summery.
Before slipping into your evening outfit, whether it be a floaty floral or linen combo, accentuate your limbs and glisten from head to toe with the luscious Omorovicza Gold Shimmer Body Oil* that will remind you of sweet nectar in colour, ylang-ylang in scent and a Egyptian goddess in results. Above all of the beautifying factors, colloidal gold heals damage, strengthens the skin and Vitamin E will protect and soothe, preparing you for another day of tan building.
Dose yourself in a divine and fresh Mediterranean scent of Sweet Orange, Lily of the Valley, Sicilian citron and bergamot from Calabria with Maison Kurkdijan Aqua Universalis Eau de Parfum*. Bottom notes of light musky woods keep this exquisite scent universal, making it suitable for everyone, everywhere and all occasions but particularly, a warm evening on the coast, in a city or the European countryside.