A Guide To Finding The Perfect Self Tan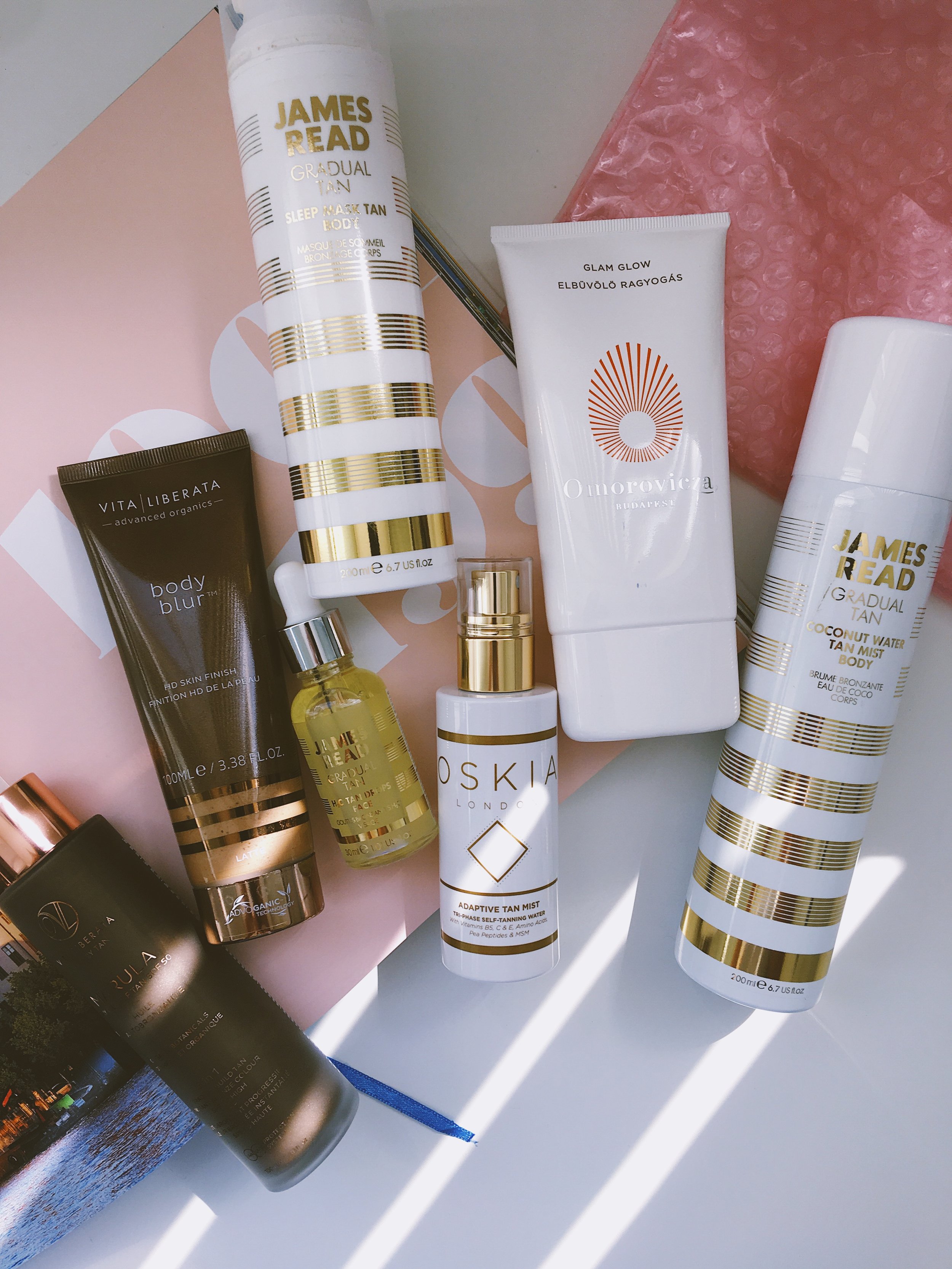 Despite having a bad reputation over the years, fake tan has finally found it's place in the beauty market and we are now faced with endless fake tan options; mousses, gels, mists, lotions, oils, masks and even wipes in recent years. The tanning industry is becoming more and more advanced as tan technologies develop, formulas improve and brands respond to what the consumer wants; anything but an orange, streaky mess. We all know that fake tan is the fastest way to get an all-over golden glow, whether were in the midst of Winter or the highs of Summer but not all tanners work for everyone and with so many available, the hardest part is not only knowing which brand but which formula will work best for you. Today, I'm answering all of your tan worries and have rounded up my top 7, with a mix of different formulas to ensure there's something for everyone from tan beginners to experts.
THE MIST:
Despite being a spray applicator, apply/blend with a mitt to avoid fake tanning your bathroom as-well as your body!
Oskia Adaptive Tan Mist*: If any skincare brand was to launch tan and get it spot on, it would be OSKIA. Home to some of the best skincare on the market today, their brand new tan range which as just launched lives up to the brands cult reputation. The Adaptive Mist is 100% natural and formulated with amino acids, naturally encapsulated DHA and natural melanin boosters to ensure a healthy, golden glow and natural looking tan is achieved. No streaks, stains, not a tint of orange in sight and super easy to apply this is the perfect tan for beginners who want a sun-kissed look to their skin.
James Read Coconut Mist*: In my eyes, James Read is king of the tanning industry (hence three of his products making their way into this post) and this new Coconut Water Tan Mist does not disappoint. The formula is ultra light-weight, incredibly easy to apply, fast-drying and develops into an even, healthy golden tan all over in 3-5 hours. Due to it's coconut, Hyaluronic Acid and Vitamin E ingredients, the tan works on softening and hydrating the skin which helps give the look of glistening, glowing limbs. I always apply my tan before going to bed so it has time to develop overnight and then I'll rinse off in the morning to reveal a tan that looks as though I've stepped off the plane after a week on a Greek island.
THE GRADUAL:
Great for building up colour over time and having a long-lasting faux glow.
James Read Sleep Mask Tan*: Despite not having a guide colour this is an incredibly easy tan to apply and one of my all time favourites. The super-fast drying formula is like no other I've tried as despite being fast-absorbing (allowing you to dress almost immediately), it's got such a super silky formula that it blends beautifully into the skin allowing plenty of time to buff/blend making it feel like a luxurious lotion upon application. The consistency is a clear gel to protect fabrics and like the Coconut Mist, it's infused with Hyaluronic Acid and Aloe Vera to leave skin feeling even more moisturised and the added Cucumber gives this a cooling, non sticky feeling. I apply this before bed, rinse off in the morning and have never had any issues with streaks, patches, dodgy feet/hands and my skin always looks smooth, luminous and a healthy tan that doesn't look as though it came from a bottle.
James Read H20 Tan Drops*: Tailor made tanning, made easy, these H20 tan drops are the new way to achieve a glowing complexion overnight with their water-based formula and ingredients of Aloe Vera and Hyaluronic Acid that won't interfere, break out the skin or clog pores. Add this transforming tan into your existing skincare routine by applying 1-4 drops into moisturiser and wake up to healthy, golden skin that gradually darkens.
THE INSTANT:
Perfect for when all you need is a quick colour fix either all over or just on the legs. Colour is instant but they do wash off straight away so avoid any water!
Vita Liberata Body Blur*: Body Blur is a breakthrough product in the fake tan market and the best option available today for perfecting skin and reducing the appearance of any bumps, bruises or scars. Suitable for the 'tan-phobics' who don't want to commit to an overnight job or worry about streaks and patches, Body Blur gives skin an instant fix of colour and disguises anything you want to conceal along the way. The light reflective formula not only camouflages the skin but bronzes and gives a streak-free, luminous finish all over that doesn't transfer onto clothes making it perfect for days when you need an instant tan fix.
THE LOTION
The tans that are fuss-free and just like applying body lotion, only leave you golden as-well as moisturised. These can be used with a mitt or hands, just ensure you wash them thoroughly after application!
Omorovicza Glam Glow*: Hybrid gradual tan, hybrid golden goddess and skincare product, this citrus scented self-tanner lotion from Hungarian skincare brand Omorovicza is an award winner for a reason. Using high-end skincare technology in addition to tan, this wonder product not only bronzes the skin but helps with anti-ageing due to it's anti-oxidant rich ingredients list. For those who want a tanner that delivers skincare benefits as-well as colour then this is the best option for you and being suitable for both face and body, it's the colour fix you've ever wanted that works overnight at building a natural, even tanned glow without transferring onto the bedsheets or clothes due to it's clear guide.
THE OIL:
If you're looking for easy application that blends seamlessly and makes skin really glisten, then opt for an oil tan.
Vita Liberata Marula Self-Tan Oil SPF50*: The ultimate tan for luminous, radiant skin all over that has a light olive-toned colour and SPF50, making it the perfect holiday tan. This dry tanning oil absorbs almost instantly into the skin and develops from a subtle instant glow when applied to a deep, bronze colour that protects, lasts for days and fades evenly. Vita Liberata have created a triple action formula that nourishes, hydrates and protects and has incredible skin benefitting ingredients of intensely hydrating marula oil, neroli to brighten, cucumber to calm, lemongrass for a 'temporary firming effect' and coconut to maintain moisture levels. This luxurious oil tan elixir is perfect for bronzing and giving your SPF protection in one and is best applied with a mitt and washed off after 8 hours once it's fully developed.