6 Must Read Books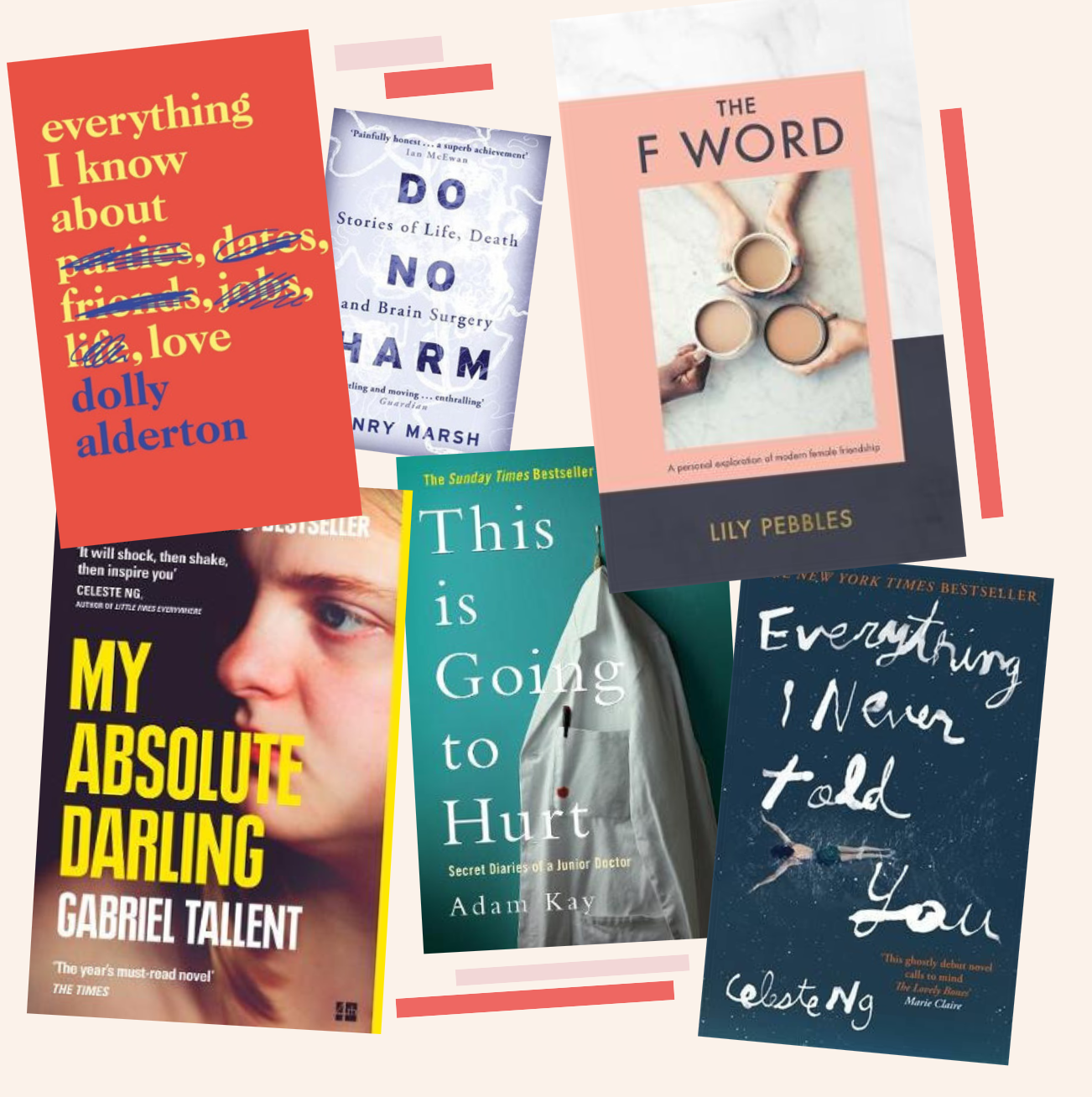 I've always loved reading and before the Summer made I made a pact with myself to try and read one book a month. Of course when lying in the sun either on the beach, on holiday or in the garden, reading becomes a whole lot easier so recently, I haven't been reading as much as I would like to be, but 2018 has been the year of sensational books for me. I've read memoirs, stories from the NHS, topics from family loss, the power of love, female friendships and plenty more but today, I wanted to share my top 6 that currently sit on my favourite book shelf…
Everything I Know About Love by Dolly Alderton: Filled with humour, laughter and most of all love, this witty and brilliantly written memoir from journalist and former dating columnist Dolly Alderton, is everything you need and should be reading to make you laugh until your sides hurt. Dolly talks about her own experience of love in all kind of ways, from her teens to late twenties where she looks back on friendships, falling in love, jobs, bad break ups, loss, navigating adulthood and concluding that friends are the heart of everything and are there no matter what. Dolly's book is the kind of read you pick up over and over again whether it's getting stuck in from Chapter 1 despite already reading the entire book or finding your favourite chapter and re-living it all over. I'll never not have this book and will always be going back to it.
The F Word by Lily Pebbles: An honest and truly phenomenal book covering the complexity, emotion and beauty of female friendships through Lily's very own experience. Starting in the school playground and Lily's diaries from the 90's, this modern book unravels many a love story between groups of friends, the type of female friendships around and most of all, teaches us how truly important the F word is.
This is Going To Hurt by Adam Kay: Heartbreak, hilarious and harrowing is the only way to describe this book. Welcome to life on the front line of the NHS through the eyes of Adam Kay and his diaries he kept after each shift, miracle, disaster and 97 hour week. Guaranteed to being you tears, happiness and laughter but most of all, show you into the crazy, hard and miraculous work of the NHS as Adam makes life and death decisions, delivers endless babies and more.
Everything I Never Told You by Celeste Ngl: Prior to writing Little Fires Everywhere, which I have waiting on my bedside table to read, Celeste released a heartfelt book about a family struggling with the loss of their daughter, set back in 1970's Ohio. Touching on the Lee family dynamic and how each sibling, parent and close friend deals with the loss of a friend, child and sister, Celeste has beautifully written a tale that portrays mystery, life growing up in the 70's and what being a family really means.
My Absolute Darling by Gabriel Tallent: A masterpiece and book that will go down as a classic, sitting amongst the rankings of To Kill A Mockingbird and The Great Gatsby. This shocking, jaw dropping and emotive debut from Gabriel creates discussion about abuse and civilisation, focussing around the two main characters Turtle and her father, Martin. It's a story of power and possessive love that is bleak, heart wrenching and in some places hard to read but one that sheds light on resilience, strength and all that we will do as individuals, for survival.
Do No Harm by Henry Marsh: Stories of life and death from brain surgeon Henry Marsh and what it's really like to sit in that operating chair before entering the part of our bodies that is responsible for ideas, speech, thoughts, memories and emotion with a metal tool. Eye opening and an honest memoir on his decades of work as a neurosurgeon, if you liked This is Going to Hurt then you must read this next.