10 of My All Time Best Books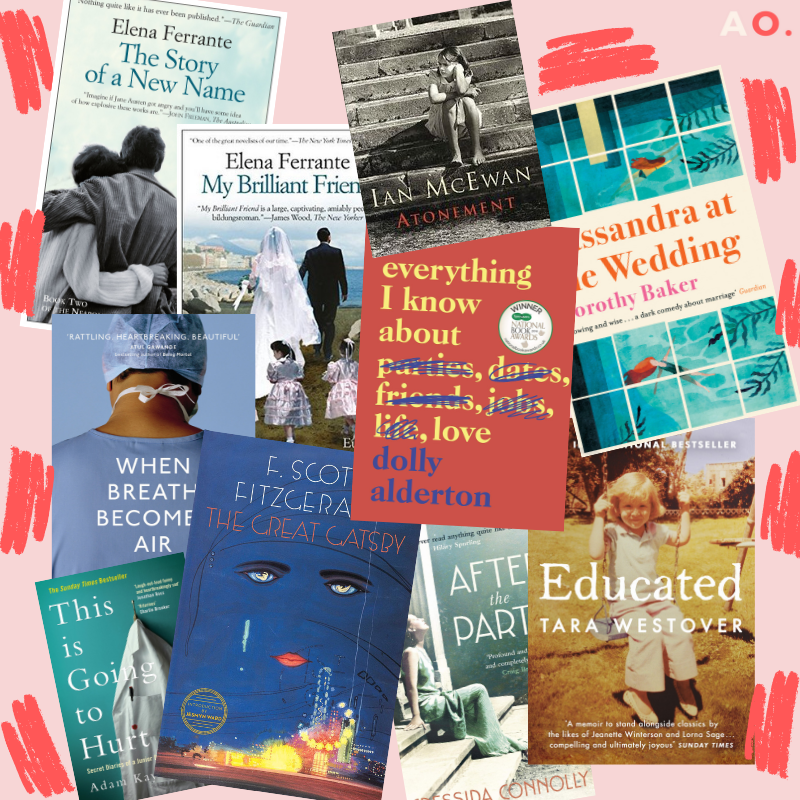 With the thrill and excitement of delving into those endless shelves in your local book shop, comes with the overwhelming thought of having to actually choose your next read. The options are endless, varying from old classics and re-living your school syllabus, to new debut novels and life affirming memoirs, which is why I wanted to share my current top 10 books of all time to help point you in the right direction for your next pick…
Reading has always been something I've loved since a young age, I will always have a book on the go and my next one or two lined up. In my family home we have a 7 shelf book corner in our sitting room that is filled with all sorts of books that my Mum and Dad have read over the years from romance, thrillers, classics and war. One of my favourite things to do is scan the shelf for my next read, picking up different copies and asking Mum the story behind the book from when she brought it to when she read it. Books open up a whole new world, whether it be a fiction that provides escapism, a memoir that guides you or a non fiction that changes your perspective on something, they are quite magical in that sense. I will still always go into a book shop over ordering books online, whether it be £2 or £5 more expensive, I love the experience that comes with browsing in a shop, being able to read the blurb in hard copy and going home with a book the same day. Likewise, it is crucial to support local book shops to keep special traditions and moments going for years to come.
Below are ten books that I adored reading from start to finish and ones I will read over and over again for years to come…
This list is in no particular order however I did want to start it off with my favourite book ever. Like many, I first read The Great Gatsby at school and fell in love with it from page 1. I now have 3 copies of this book at home, each with a different cover and each holding a special place on the book shelf. It goes without saying that Fitzgerald's depiction of 1920's America is just fabulous, capturing those obsessed with climbing the social class ladder and being wealthy perfectly, to depicting the reality of life post-war and the prohibition. The fascinating characters created by F. Scott Fitzgerald and compelling story line leaves you yearning to find out how the story ends for the charming and rich Jay Gatsby, the beautiful Daisy Buchanan and the curious writer Nick Carraway who uncovers secrets from the past. With some spectacular parties along the way, it's a story of love, betrayal, tragedy and everything about it is utterly spectacular.

An absolute masterpiece and the first book in the best selling Neapolitan Novels, My Brilliant Friend is an epic story of childhood and friendship as it follows the lives of two young girls - Lila Cruello and Elena Greco - as they experience life growing up in a poor yet vibrant neighbourhood in the Naples. Feeling the effect of politics, love, family and education, Forrente beautifully tells the story of how the two girls guide each other from childhood through to adolescence, helping one another navigate life growing up in the tough and controlled world that surrounds them and that not everything works out how you expect it to.
I couldn't put just one of the Neapolitan Novels into this round up so next up, comes the second book; Story of A New Name which as expected is just as poignant and gripping. Continuing the tale of Lila and Elena as they venture out of adolescence and into adulthood, with this next chapter in their lives comes love, heartbreak and career growth but also a somewhat toxic jealously between the two girls.
Another favourite picked up from education comes McEwan's best seller Atonement, which I first read for my English Literature A-Level. McEwans best-selling novel that perfectly harmonises both love, war childhood and adulthood is set in a hot English Summer of 1935. Following the relationship between two sisters, Briony and Cecelia, this beautiful book soon turns into a story of 'atoning' as Briony pays for her crime throughout WWII.
This is an utterly extraordinary first hand account of self invention that is completely shocking, moving and unforgettable. I read this in Fiji and didn't get off my sun-bed for a few days as I was so hooked. Tara Westover grew up 'preparing for The End of Days' and spent days gathering supplies for when the World of Men would end, leaving her family unaffected and able to carry on. However, having never been registered for a birth certificate, been taken to a hospital or even a classroom, on paper and to the state, Tara doesn't exist. When she becomes 16 and her brother violent, Tara makes the decision to leave home and create a new life for herself through education. This memoir is nothing but compelling, inspiring and joyous. Its book everyone should read and pass on to their friends and family.
A hilarious yet sometimes heartbreaking book about growing up and navigating life through your teens to twenties. Award winning journalist Dolly Alderton has created a totally fabulous book on everything she knows about love from the world of dating and boyfriends to the family and friend love. Dolly's powerful first novel shares her own personal stories that will leave you laughing, crying and desperate for more.
A touching and eye opening novel set in 1938 England on the verge of war that follows the life of Phyllis Fosterer who has just returned from spending years abroad. Helping her sisters over the Summer, Phyllis is introduced to a new circle of acquaintances - some of whom become friends - through lavish dinner parties, drink occasions and the infamous Summer camp. Post life in prison, Phyllis looks back on the events that occurred in 1938, reflecting on her decisions that consequently, changed her life forever. Connelly's novel tells a story of the privileged individuals at that time, the fear of a second war, trust, family and coming to terms with your decisions.
A twentieth century classic, Cassandra at the Wedding is a book of self acceptance, love, loyalty and sisterhood. When Cassandra finds out her twin sister Judith is getting married, we embark with her on her long drive back to her fathers American ranch. From the brilliant dialogue, it's clear from the beginning that Cassandra isn't happy with her sister's marriage and is going to do all she can to stop it going ahead. Rebellious and arriving with a packet of pills and a bottle of brandy, Baker tells a story of two once inseparable sisters who have drifted apart and are now, attempting to find their way back to each other.
This was the first of the doctor/hospital books that I read and I would still say, it is the most poignant. Neurosurgeon Paul Kalanithi has been treating patients for almost a decade and at the age of 36, his life is turned upside down as he is diagnosed with incurable lung cancer. Becoming the patient in the doctors chair for the remainder of the book, we follow Kalanithi's journey through medical school to becoming a neurosurgeon and opening up the most vital human organ on a daily basis to entering fatherhood and becoming ill himself. When Breathe Becomes Air is the most life affirming book you could read and one that is written with such emotion, love and pain. Kalanithi is an incredible being who devastatingly died whilst working on this book but his story lives on as it continues to inspire others.
Heartbreaking and harrowing filled with moments of hilarity, Kay's memoir of life on the NHS front line as a junior doctor will make you cry, smile and gasp but most of all, show you just how incredible the NHS nurses and doctors are. Through each chapter you will see a first hand account of 97 hour weeks and the tough reality of what life in the NHS is really like. Kay couldn't have written a more remarkable book that is rightly so, very well loved by the nation.